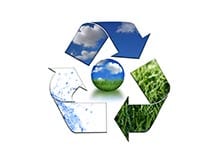 Information on our Cold Room/Insulation panel disposal service and Why you should use a Correct Recycling solution.
Technical Scope:
This information deals specifically with metal faced insulated panels and the processing technology necessary for their compliant disposal. Panels of this type are used primarily in buildings, cold room installations (food, pharmaceuticals and data rooms) and refrigerated display equipment. The element which most affects the end of life disposal route for such panels is the blowing agent solvent gas) used to expand the foam into the cavity between the sheet metal, crating a closed cell structure in the polymer trapping these gases which have desirable thermal properties.
Manufacturing
Panels are generally produced through a continuous laminating process consisting of a 'core' of thermally efficient insulate bonded between 'pre-stressed' galvanized steel sheet
The central core can be made of various insulating materials. Insulated panels with cores of PUR, PIR and PF are manufactured using blowing agents that are retained in a closed cell structure to create a highly efficient insulate. One of the most efficient and easiest blowing agent to use was CFC. However this gas had a relatively high ozone depleting potential (ODP) and was replaced firstly by HCFC and then after extensive development research by non-ODS gases such as Pentane and HFC. The type of insulation therefore has a direct bearing on method of disposal depending whether the insulation does or does not contain gases with ODP.
Polyurethane (PUR/PIR)
PUR/PIR is the most efficient and commonly used core material for insulated panels, used in over 90% of all panels.Initially panels were manufactured using CFC as a blowing agent. From the mid 1980s the insulating panel industry gradually moved from CFCs to HCFC.This blowing agent reduced the ODP by 90% but is still classed as an ODP substance. From 2000 the industry gradually changed to pentane or HFCs and to PIR panels.
THESE Panels must be recycled in a Fridge recycling plant to ensure capture of the released ODS gasses during the shredding process as they are shredded in an Inert Nitrogen atmosphere.
The most commonly used hydrocarbon blowing agent used today is cyclopentane (Pentane).
As with many hydrocarbons pentane is highly flammable and will create a risk of explosion when released.
The UK Environment Agency are now acutely concerned that pentane releases are appropriately monitored and properly controlled. 2013 saw the effective inclusion of pentane blown foams into the loss monitoring regimes of Ozone Depleting Substances (ODS) treatment plants. These measures were implemented via the Environment Agency's report 'Flammability of fridge insulation foam produced with a hydrocarbon blowing agent'. The report represents the Agency's final determination on the fire and explosion risks of pentane blown fridge carcasses. Click here for report
The determination was necessary to avoid fire and explosion in third party shredding systems due to the misleading classification of baled insulated panels as non-hazardous, which led to them being processed through shredding systems which are not 'intrinsically safe' i.e. they do not include inert gas suppression and monitoring.
In DEFRA's WEEE BATRRT guidance, it is stated that appliances containing hydrocarbons must be processed in intrinsically safe equipment. With the implementation of these findings operators are prohibited from merely baling carcasses to consign them off site as non-hazardous metal product that can be processed by conventional shredding. For manual separation AATFs the pentane blown foam must be safely liberated from the steel/plastic element before it is sent on for further processing at a conventional shredding plant.
Following the determination of pentane blown foam, processors of commercial fridge equipment should have either invested in plant capable of shredding and liberating the pentane blown foam in an 'intrinsically safe' environment or ensured as part of their duty of care to all waste producers that the panels are consigned to such a facility. Many processors have sought to navigate the obvious conclusion of the determination by manually dismantling and cutting away the foam using cutting discs, which presents additional fire risks from smouldering foam. The claim is that they do not send the foam to the metal processors. Rather it is stored in bulk separately and later consigned off site for landfill. This practice has already led to some serious fires.
Co-processing through conventional small scale fridge recycling plants also presents significant risk as pentane blowing agents increase in the waste stream. Conventional fridge recycling plants are entirely encapsulated to enable the recovery of polluting solvents (CFCs/HFCs), this presents a risk that the shredding chamber will develop an explosive atmosphere during the processing of pentane containing material. Many efforts have been made to monitor lower explosion levels and inert the internal atmosphere using gaseous nitrogen. However, fires are still common.
SO WE SAVE YOU TIME; WE SAVE YOU MONEY; WE ENSURE YOU HAVE THE CORRECT AUDITABLE ENVIRONMENTAL SOLUTION SO WHY NOT REQUEST A QUOTE TODAY FOR DISPOSAL?