Cost effective and Environmentally Correct ColdRoom Panel / Insulation panels disposal.
Are you currently having to dispose of insulation panels or cold room panels?
Are you having to cut them up to get them disposed of correctly?
STOP! we can reduce your work load and costs by using our solution for all your Cold Room insulation panels.
WE CAN ACCEPT ANY SIZE OF PANEL "IF YOU CAN FIT IT ON AN ARTIC TRAILER THEN WE CAN ACCEPT IT". 
 Logistics including auditable recycling/disposal service for the panels but we can also provide skips for general waste and metal as required to give you a one stop solution  for your project if required.

What is a ODS containing panel?
If an insulated panel contains ODS it is Hazardous Waste (Special Waste in Scotland) and must be disposed of correctly to prevent release of the ODS gas to atmosphere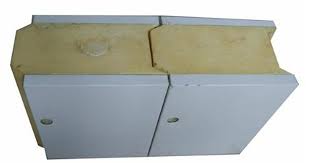 Its not just refrigeration panels to cool rooms and chill stores that have these – older insulated cladding panels used on the outside of a building can contain ODS too, and need to be disposed of correctly
How do i find out if i have a Hazardous Panel or not? ( check our quick guide below)
1. Mineral wool built-up panels DO NOT contain ODS.
2. Polystyrene panels do generally not contain ODS gas's but may contain Bromides.
3. Foam core panels manufactured / installed after 2004 DO NOT contain ODS
4. Foam core panels manufactured / installed before 1990 almost always DO contain ODS
5. Between 1990 and 2004, many foam core panels MAY contain ODS. This can be determined by laboratory testing
How can we Recycle correctly without size reduction when others cant?
We along with our processing partner's have the only UK solution, where we can deliver your insulation panels from old cold room, which contain Ozone Depleting Substances direct into the recycling plant as they are, without the need to reduce them in size to 2mtr x 1mtr panels prior to delivery for disposal, like most fridge plants in the UK.
We have the only plant in the uk with an entry point into the safe inert shredding plant required by law, without needing to be reduced in size on-site or prior to delivery. We also do not need to reduce on our site as our plant is designed specifically to handle large panels up to 4mtr long panels.

SO WE SAVE YOU TIME;
WE SAVE YOU MONEY;
WE ENSURE YOU HAVE THE CORRECT AUDITABLE ENVIRONMENTAL SOLUTION
SO WHY NOT REQUEST A QUOTE TODAY FOR DISPOSAL?