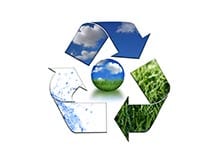 Have you been searching for an affordable recycling solution for your company to profit from? Here at Recycling 4 You, we offer a number of eco-friendly disposal services to suit your needs. We are a recycling business that seems to continue expanding, simply because of our hassle free and effective recycling services. Even though our headquarters is based in Lincolnshire, we are able to offer our recycling solutions across the nation. With a large network of recycling companies across the UK, we are still your local recycler, so do not hesitate to continue to our website to find out more.
Affordable recycling for a wide range of industries
We work hard to meet our client's needs, and we are able to do this by offering a tailored recycling service where you can place your surplus to requirement goods and products, allowing us to collect them and dispose of them in an eco-friendly manner. We specialise in the recycling of electrical goods. These types of goods can range from fridges, computers, monitors, CCTV, security cameras, hard drives, TVs, DVD players, CD players, lighting, printers, toners, fax machines, and telecom equipment. With each product that we take off your hands, we guarantee to completely clear all data that you had previously stored.
To find out more about our nationwide and affordable recycling solutions, continue to our website.