Computer Recycling and IT Equipment Disposal for Lincolnshire
Collection Reuse & Recycling of all Equipment including data protection.
Free Drop off for Computers, Laptops, Tablets and Mobiles with just a small charge for all other items including screens and printers!
All data bearing material including all hard drives are data wiped of data using UK Government approved software, to ensure NO trace of previous data remains prior to re-use. 
If we are unable to re-use any data bearing items, including hard drives due to damage or age they are physically destroyed. 
This ensures we provide our customers with peace of mind that the information on the computer, tablet or mobile phone is fully destroyed beyond recovery, when using our collection and disposal services for their computers and other It equipment.   
Collections for Businesses in Horncastle, Boston, Lincoln, Grimsby, Sleaford and all locations in Lincolnshire and Surrounding county's.
We are Solution Providers specialising in PC Disposal and computer recycling and can collect all your electrical equipment not just your computers for correct recycling in accordance with the weee directive.
We are able to provide access to a range of computer and IT recycling onsite storage or disposal services tailored to your individual requirements.
We arrange Fast Legal Recycling collections for Businesses and Public Organisations only UK Wide. If you are a home user then you can still use our services but would need to arrange for your computer to be delivered to us or drop it off at our Horncastle Recycling centre.

The computer's collected for reuse or shredded prior to the separation into raw materials for recovery.
We offer a low cost or even FREE recycling disposal service for all end of life or non-working IT equipment or computer systems. We are able to collect from any business and bring the equipment back to our local computer recycling plant in Horncastle Lincolnshire. Once the computers have arrived they are assessed as to if they are able to be reused or need to be recycled. If suitable for re-use the hard drives are data wiped using special software approved for use on Government computers and fully CESG approved. This effectively shreds the information and wipe's any traces of the former owner from any data bearing device in the computer or item never to be recovered by any means. The computer is then reinstalled with an operating system and offered for resale. Where the computers or equipment are not suitable for re-use they are then physically destroyed, including the hard drive and all the computer, which is then shredded.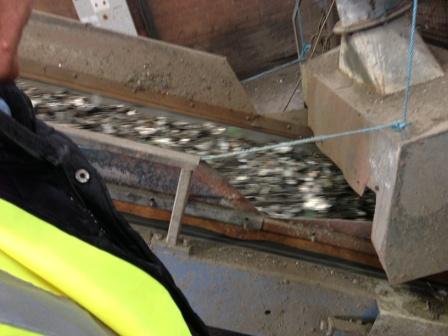 The shredded equipment is then automatically separated into the various metal, plastic, copper, circuit board streams for individual collection and transportation to specialist recovery plants for further recycling and reuse as raw materials. All work fully complies with the WEEE directive and UK laws and is Zero Landfill.
Our Service Includes
100% Recycling Guarantee. (nothing goes to landfill)
Full Compliance with 

WEEE and Hazardous Waste Regulations.
(Failure to comply with the Hazardous Waste Laws could leave you liable for a fine in excess of £5,000 not just to the company but the directors as well. This includes incorrectly disposing of computer monitors or display devices and all electrical equipment especially refrigeration devices )
How do I access the service
Once you have completed the quote form with your contact details and filled in the large items box if required with the number and type along with the size of any large items like photocopiers or appliances, we will then send you via email confirmation of any costs involved for collection and correct recycling of the equipment. Our costs will include the collection, full duty of care/hazardous waste collection paperwork and transport to our facility in horncastle for processing. You can of course always contact us via the phone if you have any questions you would like us to answer and if we need anymore information then we will either email or telephone you for clarification.