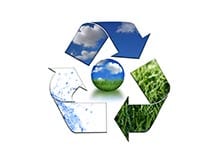 Computer Recycling and IT Equipment Disposal: Collection Reuse or  Recycling of all Equipment in the UK including guaranteed 100% data protection.
All data bearing material including all hard drives are data wiped multiple times to ensure that no trace of your data remains prior to reuse or if we are unable to verify that the data has been completely removed then they are shredded to ensure we provide our customers with peace of mind when using our collection and disposal services for their computers and other It equipment.    
We are Solution Providers specialising in PC Disposal and computer recycling and can collect all your electrical equipment not just your computers for correct recycling in accordance with the weee directive.
We are able to provide access to a range of computer and IT recycling onsite storage or disposal services tailored to your individual requirements. We can arrange Fast Legal Recycling collections for Businesses and Public Organisations only UK Wide. If you are a home user then you can still use our services but would need to arrange for your computer to be delivered to us.
Computer Recycling with 100% data protection by verified data destruction or by shredding your equipment here in the UK
Computer systems collected and shredded prior to the separation into raw materials for re-use
By using a WEEE/Computer recycling plant as close to you as possible we not only keep our costs as low as possible but also reduce the carbon footprint that our collections make. We are here to help companies looking at ways of reducing costs and fulfilling their corporate social responsibilities.
We collect Computers, Monitors and all IT or Electrical devices from :-
Small businesses.
Blue Chip Corporate Companies.
Local / Education Authorities.
NHS Trusts.
    Our service is currently being used by NHS Trusts, Councils, Schools and major UK companies
We offer a low cost or FREE recycling disposal service for all end of life or non working IT equipment or computer systems. We are able to collect from anywhere in the UK and either send the equipment to one of our local computer recycling plants where the equipment is put directly into a shredding machine or to reuse the equipment in theUK. The shreddded equipment pieces are after shredding automatically separated into the various metal, plastic, copper, circuit board streams for individual collection and transportation to specialist recovery plants for further recycling and reuse as raw materials. All work fully complies with the WEEE directive and UK laws.
Our Service Includes
(Failure to comply with the Hazardous Waste Laws could leave you liable for a fine in excess of £5,000 not just to the company but the directors as well. This includes incorrectly disposing of computer monitors or display devices )
Hard Drive Destruction service
We are able to collect from your site and take directly to our shredding plant any number of hard drives for secure destruction with a certificate of destruction provided for all our collections. We can if required record the serial numbers as well. For those customers who require a higher level of service or have government top-secret level information on their hard drives, which requires them to be visually observed being destroyed, we can arrange this for you. We currently have several customers who require this level of destruction and we can if required provide a person to collect and observe the destruction on your behalf.
For details of our onsite storage solutions please visit our computer recycling onsite storage page.
How do I access the service
Once you have completed the quote form with your contact details and details in the large items box of the number and type along with the size if large items like photocopiers, we will then send you via email a quotation for collection and correct recycling of the equipment by the appropriate size of lorry for amounts you have stated as needing to be collected for recycling. Our costs will include the collection, full duty of care/hazardous waste collection paperwork and transport to the nearest recycling plant to your location( keeps costs low). Once we have received notification of destruction from the recycling plant which is normally within the month of your collection we will then issue and send you via email a certificate of destruction for the equipment we collected from you. You can of course always contact us via the phone if you have any questions you would like us to answer and if we need anymore information then we will either email or telephone you for clarification.